In what can be termed as a sensational twist to YS Vivekananda Reddy's Murder case, Viveka's daughter today approached the High Court demanding CBI inquiry into the case. She gave a list of 14 suspects to the court. The surprising element in this list is Kadapa YSR Congress MP YS Avinash Reddy's name figuring multiple times in the petition.
YS Avinash Reddy himself is the suspect Number Nine in the list while his father YS Bhaskar Reddy is seventh. Another YS family member, YS Manohar Reddy is suspect number eight. Avinash's close associate and YSRCP State Secretary, D Siva Shankar Reddy and another person, Uday Kumar Reddy are also on the list.
Some associates of Viveka and the local police officials are also on the list. Former TDP Minister Adinarayana Reddy who is now in BJP and B.Tech Ravi who is a TDP MLC are on the list with TDP connection. Both of them have already approached the High Court demanding that the case should be handed over to the CBI.
Viveka's daughter told that the court that she does not believe in the State Police and want CBI inquiry. The court questioned the Government why it does not want CBI inquiry while the Chief Minister himself demanded the same while he is in the Opposition. The next hearing of the case is posted to February 6th.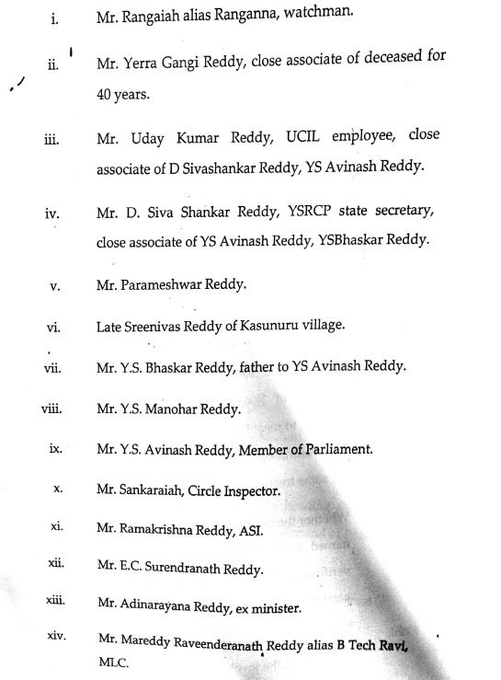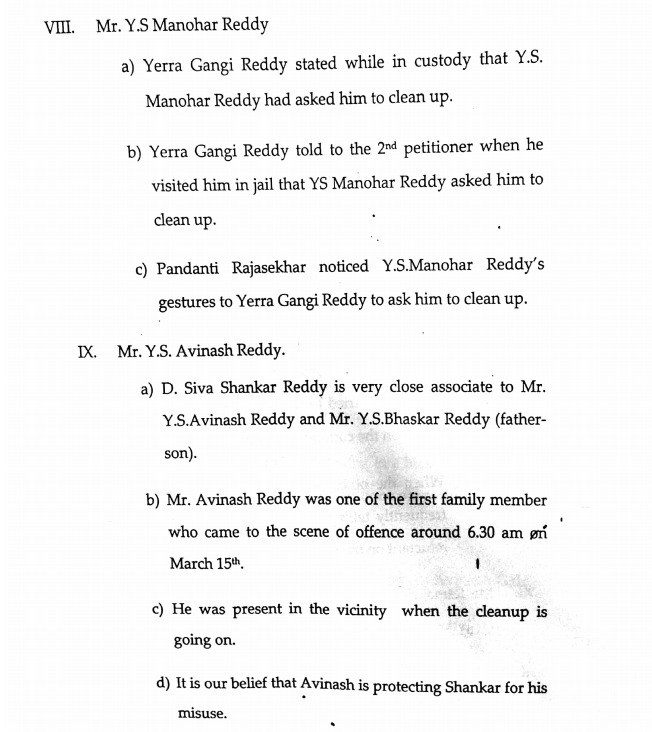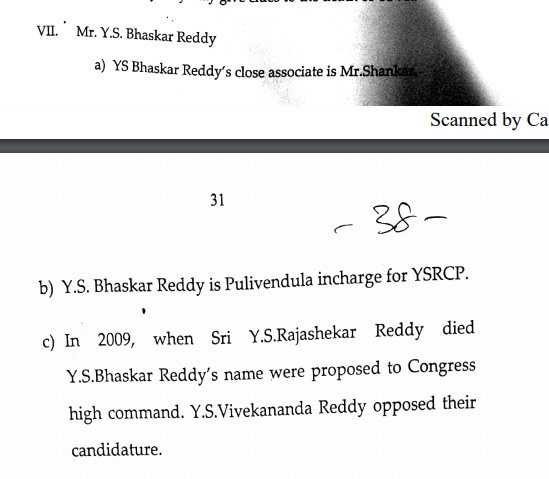 Follow Mirchi9 on Google NewsThis Week Releases on OTT – Check 'Rating' Filter
Hiring Content Writer: We are looking to hire a 'Telugu' content writer. Send your sample articles to [email protected]
Don't Miss
Akhanda U.S. Record: Crying On Kammas Goes To Next Level
Nandamuri Balakrishna's Akhanda has taken a flying start at the box office despite the mixed...
Don't Miss
Akhanda Review - Lengthy Mass Jathara
BOTTOM LINE Lengthy Mass Jathara OUR RATING 2.5/5 CENSOR 2h 47m, 'U/A' Certified. What Is...
Don't Miss
అయ్యో... మోహన్ బాబుకే దొరకలేదా..? నిజమేనా..?
గత ఎన్నికలకు ముందు తమ బకాయిల విషయంలో టీడీపీ ప్రభుత్వం స్పందించడం లేదని, రోడ్డెక్కి నిరసన తెలిపిన మంచు మోహన్...
Don't Miss
Jagan: Age 40, Mindset In 80s
YS Jagan Mohan Reddy is voted to power in the 2019 elections with a mind-blowing...
Don't Miss
హేయ్ బోయపాటి... మళ్ళీ వేసేసారు..!
"మెగాస్టార్ అభిమానులందరికీ నేనొక్కటే హామీ ఇస్తున్నా, గుండె మీద చెయ్యి వేసుకుని సినిమా చూడండి" - 'వినయ విధేయ రామ'...