Andhra Pradesh State Election Commission had written to Andhra Pradesh Chief Secretary Neelam Sawhney over her letter with objections over the postponement of the Local Elections. In a Three-Page-letter, the State Election Commission said the SEC is not ill-informed over Coronavirus Outbreak.
The Commission reiterated that the postponement has become inevitable over a 'circumstance' beyond anticipation. The commission also informed that states like Maharashtra, West Bengal, and Odisha have also postponed the local body elections for the same reason.
They added that Goa is also actively reconsidering its election schedule. The Commission also responded to Chief Minister YS Jagan Mohan Reddy's allegations that the Election Commissioner did not consult the Health Secretary before postponing the elections. "We are accessing WHO Warnings and the Ministry of Health and Family Welfare Guidelines and information placed in the public domain," they said.
Surprisingly, the SEC claimed that he is regularly in touch over the telephone with AP Principal Secretary, Minister of Health and Family Welfare. He added that the Health Department did not share information sought by the SEC. "To put any blame at the doorstep of the Commission is not factual", they clarified.
The commission also clarified that it will revisit its decision of postponement if the National Task Force constituted by the GoI gives a go-ahead. The Commission also offered to support the State Government's efforts to get the funds of the 14th Finance Commission since the elections could not be held before the 31st of March due to genuine reasons.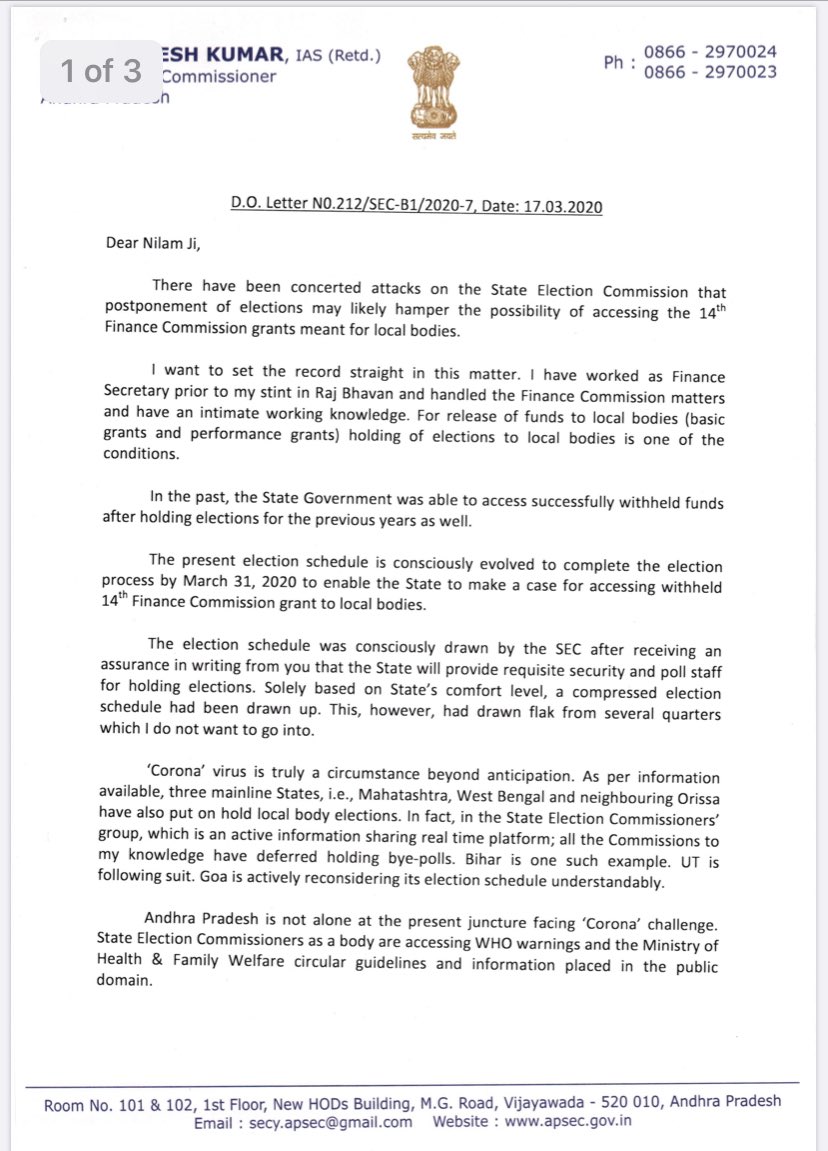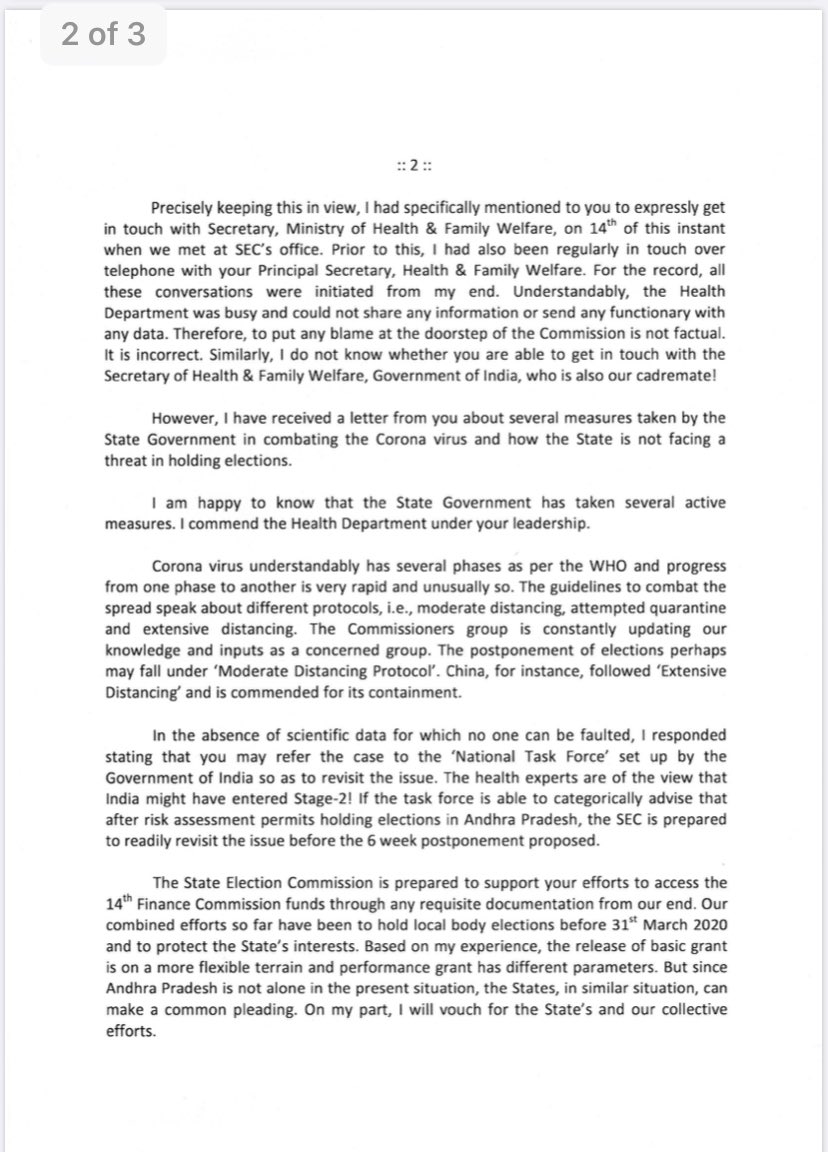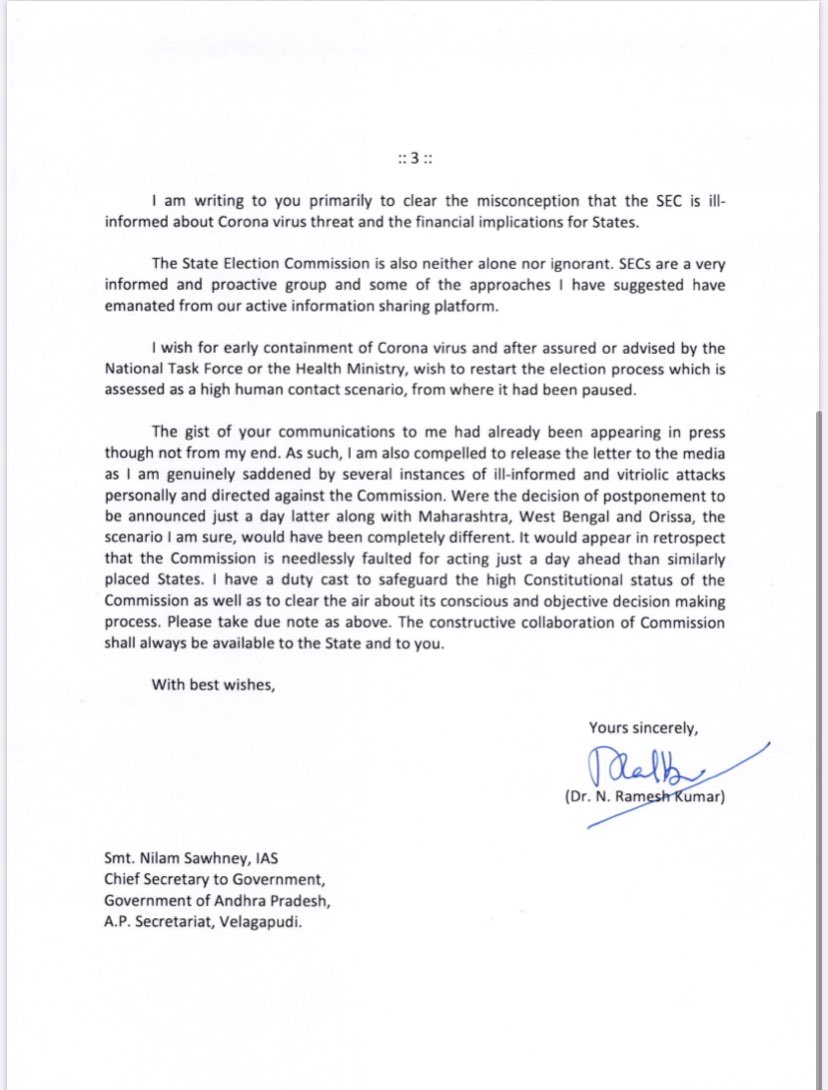 Don't Miss
Speed of Deaths in the US Takes Experts By Surprise
The United States is severely battered due to the Coronavirus. New York has become the...
Don't Miss
Don't Know Why She Left Acharya Says Chiranjeevi
The public announcement of the exit of Trisha from Megastar Chiranjeevi's upcoming film Acharya has...
Don't Miss
Soft-Spoken Musician Slams Atrocious Remix
The usually reticent musician AR Rahman is all fuming these days. And he has a...
Don't Miss
Ram Takes Easy, But Director Trashes It!
Director Maruthi didn't waste time before trashing the rumors that have been circulating in the...
Don't Miss
Why the Most Populous California is Safer Than NY?
The number of Coronavirus cases has crossed more than Four Lakh in the United States....