Almost a month ago Puri Jagannath broadcasted a monologue, a podcast about flop movies and need for respecting and saving the producers who give failures to the industry. Telugu Film Producers Council (TFPC) released a press note thanking Puri Jagannadh for that podcast.
The press note reiterated every part of Puri musings how the flop movies provide employment for cine workers throughout the year and if not for them, there wouldn't be sufficient employment as the number of flop films exceeds the successful films which aren't even 10% of the total number of movies produced in a year.
TFPC asked film journalists and critics to understand the hard work behind every movie and also realise the fact that no producer invests crores thinking that he is producing a flop movie. Well, Puri put forward a thought process that never occurred to anybody, earlier.
The present times are testing times for producers and they need huge support from not only journalists and reviewers but also the industry biggies. What do you think about TFPC's response to Puri's podcast?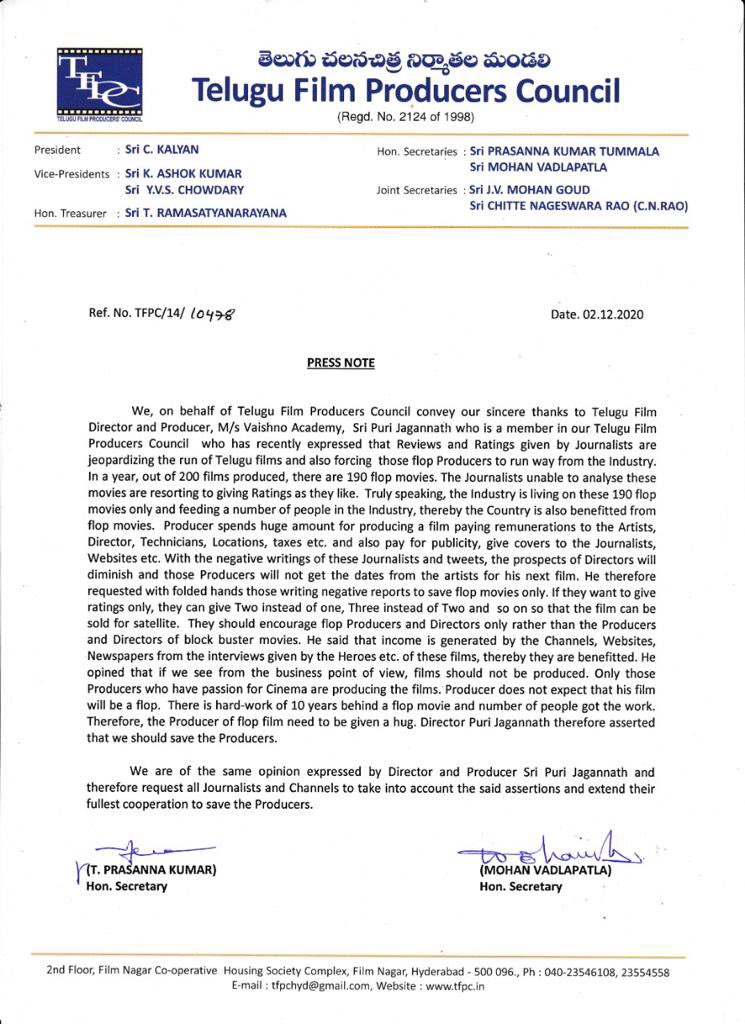 Follow Mirchi9 on Google NewsThis Week Releases on OTT – Check 'Rating' Filter
Hiring Content Writer: We are looking to hire a 'Telugu' content writer. Send your sample articles to [email protected]
Don't Miss
Inside Story: Who Prepared Pawan Kalyan's Speech?
We media usually address Pawan Kalyan as Powerstar while writing film news and as Janasena...
Don't Miss
Venkatesh And Rana Together For Netflix Web Series
The dream of Daggubati fans has finally come true as Rana and Venkatesh Daggubati are...
Don't Miss
Love Story All set For Record-Breaking Openings!
Love Story starring Naga Chaitanya and Sai Pallavi is undoubtedly the biggest Telugu release post...
Don't Miss
List Of New Titles Premiering On OTT This Week
Here is the list of new titles premiering on top OTT platforms like Netflix, Amazon...
Don't Miss
Three Different Targets For Love Story Trio
Naga Chaitanya and Sai Pallavi starrer Love Story is all set to hit the silver...