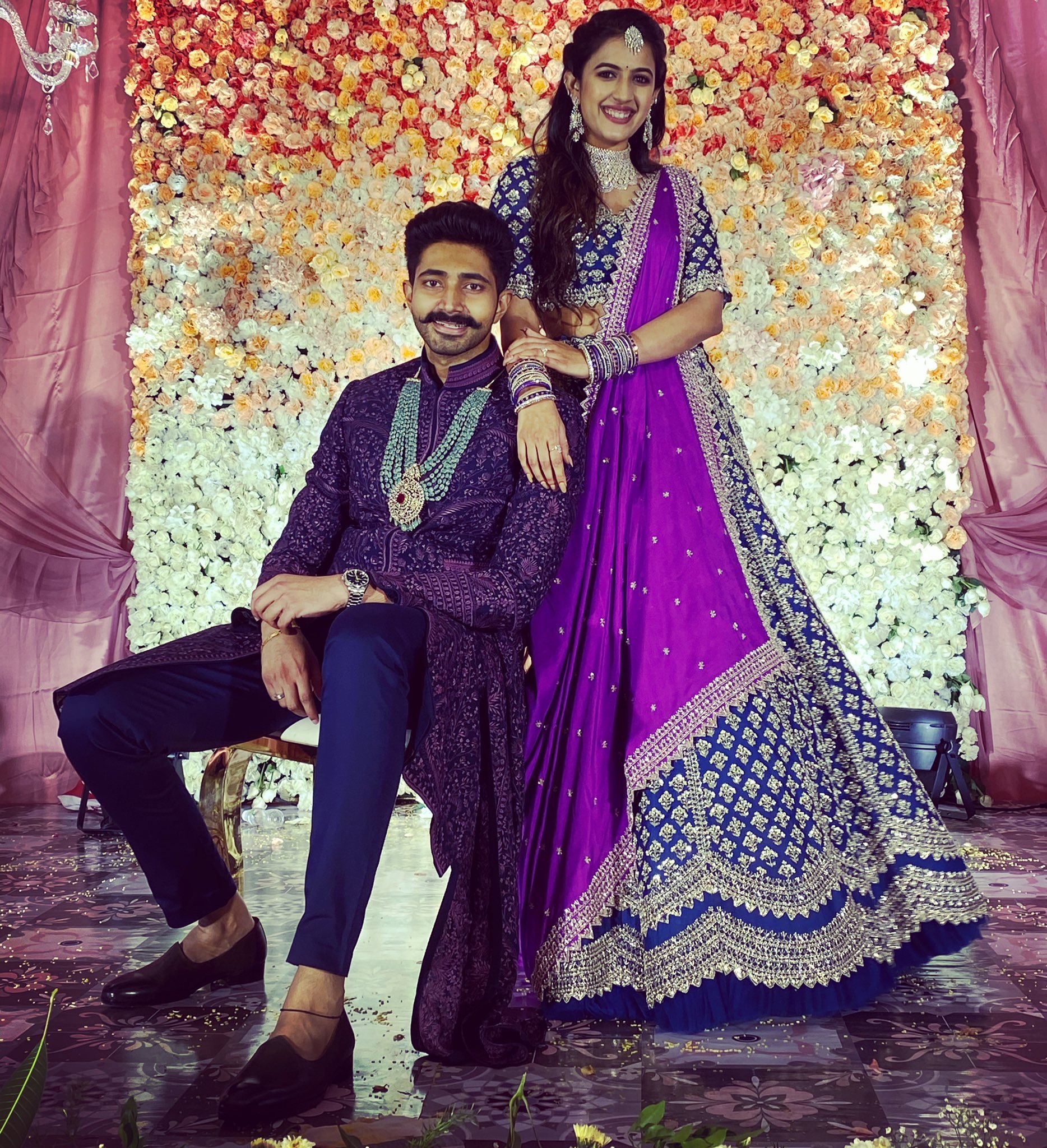 Although it was known that Niharika Konidela is going to be engaged soon after the revelation that she was going to wed Venkata Chaitanya Jonnalagadda, we didn't know till it happened.
Beautiful and festive pictures from the engagement event held in the mega compound surfaced on social media as a big surprise. The entire Konidela family is enough to make it a grand event. Of course, megastar Chiranjeevi family is big enough and every occasion is a special celebration of its own kind.
It's a celebration with close relatives and family members in attendance from both sides aka the bride and bridegroom families and close relatives.
Look at the would-be bride Niharika Konidela. Isn't she looking lie a dream in her gorgeous blue heavily embellished lehenga and choli teamed with a pretty velvet-coloured dupatta? Chaitanya and Niharika look so adorable together. What do you say, guys?
Follow Mirchi9 on Google NewsThis Week Releases on OTT – Check 'Rating' Filter
Hiring Content Writer: We are looking to hire a 'Telugu' content writer. Send your sample articles to [email protected]
Don't Miss
Inside Story: Heroine Sucking Producer's Blood With Mumbai Batch
She is one of the top heroines in Telugu film industry. Despite a slow start...
Don't Miss
శోభనం టాక్స్... ఏం ఎటకారం గురూ..!
ఆంధ్రప్రదేశ్ రాష్ట్ర ముఖ్యమంత్రి జగన్ మోహన్ రెడ్డి ప్రవేశపెట్టిన 'వైఎస్సార్ జగనన్న హోసింగ్ ప్రాజెక్ట్' 5%పై సోషల్ మీడియాలో పెద్ద...
Don't Miss
ఆర్ఆర్ఆర్... ఫోటోషాప్ పోస్టరా..?
రాజమౌళి తెరకెక్కించిన "ఆర్ఆర్ఆర్"కు సంబంధించి రెండు పోస్టర్లను సోమవారం నాడు చిత్ర యూనిట్ రిలీజ్ చేసింది. తొలుత జూనియర్ ఎన్టీఆర్,...
Don't Miss
పుష్ప ట్రైలర్... 'కంటెంట్'లో కన్ఫ్యూషన్..!
'ఆర్య, ఆర్య 2' తర్వాత సుకుమార్ - అల్లు అర్జున్ కాంభినేషన్ లో వస్తోన్న "పుష్ప" సినిమాపై సినీ పరిశ్రమలో...
Don't Miss
'కడప'లో కూడా 'కమ్మ' వాళ్ళే కొంటున్నారా?
ఏదైనా ఒక మంచి జరిగినపుడు దానిని ఆహ్వానించాలి గానీ, బురద జల్లే ప్రయత్నం చేయకూడదు. ప్రస్తుతం "అఖండ" సినిమాపై ఓ...