Rahul Ramakrishna starrer 'Mithai' director Prashant Kumar wrote an open letter to director Rajamouli finding fault with the Baahubali director for expressing his honest opinion about Academy Award-Winning South Korean movie 'Parasite'.
He made scathing remarks about Rajamouli's 'Baahubali and also mentioned other films making allegations that the pan-Indian filmmaker had resorted to plagiarism and his work isn't worth to be in any category for an award.
Not to forget, his debut movie 'Mithai' was a disaster and even his hero Rahul Ramakrishna disassociated himself from it even before the release. Targeting Rajamouli on a social media platform might be an easy thing.
However, one can't make sure that helps in getting noticed just because one was targeting the acclaimed director who made the entire nation rally behind him with 'Baahubali'. There is hardly any attention to Prashant Kumar's remarks about Rajamouli.
As per the unconfirmed sources, Rajamouli reacted to his open letter saying that it was his opinion and also reminded him that there will be a lot of lobbying while choosing the winners for Oscars Awards.
Not only 'Parasite', but he also didn't like several other award-winning movies, as well. Even their process of selection came under criticism several times.
To be frank, getting a foreign movie to be noticed by Oscard Awards committees is a strenuous and expensive process and there had been big debates on the selection process and the standards they had set.
It happened when the Indian movie 'Lagaan' entered the race for Academy Awards and how much Aamir Khan and his team endured during the selection process. However, Rajamouli's response is from unconfirmed sources, folks!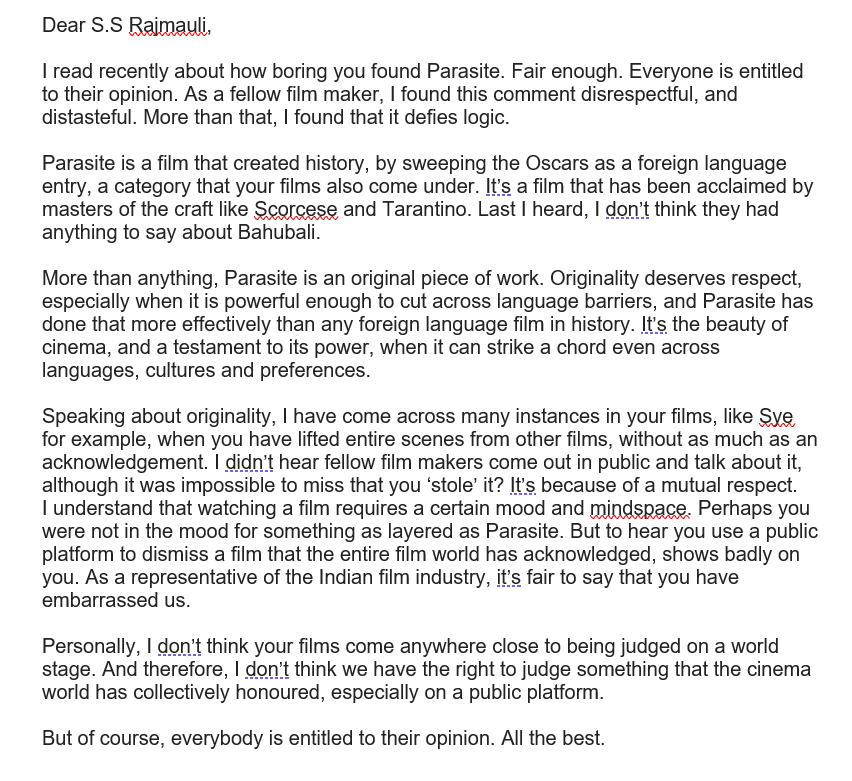 Follow Mirchi9 on Google NewsThis Week Releases on OTT – Check 'Rating' Filter
Hiring Content Writer: We are looking to hire a 'Telugu' content writer. Send your sample articles to [email protected]
Don't Miss
పుష్ప ట్రైలర్... 'కంటెంట్'లో కన్ఫ్యూషన్..!
'ఆర్య, ఆర్య 2' తర్వాత సుకుమార్ - అల్లు అర్జున్ కాంభినేషన్ లో వస్తోన్న "పుష్ప" సినిమాపై సినీ పరిశ్రమలో...
Don't Miss
'కడప'లో కూడా 'కమ్మ' వాళ్ళే కొంటున్నారా?
ఏదైనా ఒక మంచి జరిగినపుడు దానిని ఆహ్వానించాలి గానీ, బురద జల్లే ప్రయత్నం చేయకూడదు. ప్రస్తుతం "అఖండ" సినిమాపై ఓ...
Don't Miss
'కులం' తలుచుకుంటే 'కలెక్షన్స్' వచ్చేస్తాయా?
ప్రస్తుతం ధియేటర్లలో సందడి చేస్తోన్న "అఖండ" సినిమాకు కులం ఆపాదించే పనిలో ఓ వర్గం తలమునకలై ఉన్నట్లుగా కనపడుతోంది. 'అఖండ'కు...
Don't Miss
Akhanda U.S. Record: Crying On Kammas Goes To Next Level
Nandamuri Balakrishna's Akhanda has taken a flying start at the box office despite the mixed...
Don't Miss
Akhanda Review - Lengthy Mass Jathara
BOTTOM LINE Lengthy Mass Jathara OUR RATING 2.5/5 CENSOR 2h 47m, 'U/A' Certified. What Is...